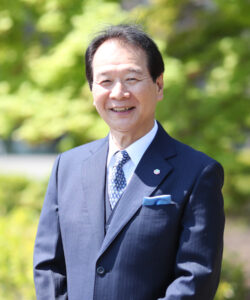 Junichi Yamazaki / President of Kiryu University
 Kiryu University was founded in 1901 and has developed as a university of life science comprising the Faculty of Health Care (Department of Nursing and Department of Nutrition), Special Course, and Junior College (Department of Science of Living and Department of Art and Design). In addition, the Midwifery Program is under the one-year Special Course.
 More specifically, our University develops dietitians and registered dietitians involved in the food that is essential for human life and nurses, public health nurses, and midwives playing an active role at the forefront of the healthcare field. In addition, our University has a course for learning art, particularly art and design, because something that enriches our hearts or is cultural is indispensable for human life. Of course, it is important as the role of our University to provide highly expert knowledge and skills to students and form their intellectual abilities and good moral characters, as well as developing their intellect and power of collaboration. Furthermore, we think it is also important to keep our school philosophy "Development of persons who are valuable to society," that is, to provide students with an education that contributes to rich humanity and life planning by increasing their abilities to continue learning throughout their lives for survival as a member of society.
 We have promoted cooperation between the University and the community up to now, facilitating participation in social activities and interaction and contact with the citizens to build a foundation as a community-oriented university.
 Therefore, all students at our University are required to build a spirit of self-reliance. It means that they should have their own thoughts and an unwavering faith with responsibility for their own actions. So, we would like you to consider the purpose and meaning of entering our University once again. You are required to continue learning throughout life. You should have an awareness that your learning starts when you enter our University.
 The campus where trees are neatly arranged between the school buildings offers an environment that can support your learning, club activities, and volunteer activities, functioning as a place for interaction among students and teachers.
 We will aim at being a university that continues to be valued highly by society according to our educational policy of "practical learning and hands-on expertise" from now on as well.