Can you see your future?
In the Department of Nutrition, you will be able to find your guaranteed future life.
What is a registered dietitian?
A registered dietitian is a specialist who provides nutritional care and nutritional education and guidance in support of people's health and lives from a dietary perspective, playing an active role in the healthcare and education fields.
Increasing fields where registered dietitians can play an active role
In the Department of Nutrition of Kiryu University,
you will aim at becoming a registered dietitian with advanced professional knowledge and the ability to empathize with heartfelt sincerity.
Excellent curriculum for acquiring the knowledge and techniques necessary for a registered dietitian
Kiryu University provides a systematic curriculum by which you can learn the following three skills:
CHECK! The three skills you can learn at Kiryu University
(i) Nutritional education skill
You will master the skill of nutritional education that meets the matters and needs of each person.
(ii) Management skill
You will master the practical skill of management and administration for nutrition, safety, and economy in general.
(iii) Communication skill
You will master the skill of presentations by which you can gain the understanding and empathy of the audience.
CHECK! On-site practice through which you can gain practical skills
Kiryu University provides a wide variety of facilities for practical training, including clinical sites, feeding service facilities, and administrative agencies, to offer a system for developing practical skills and applied skills.
First year
Early-stage hands-on joint training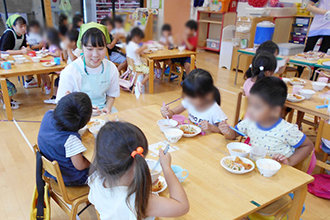 Third year
Practical training in feeding service management theory and practical training in clinical nutrition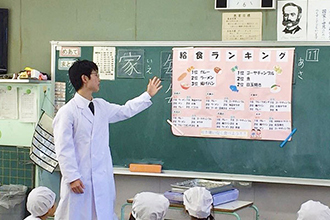 Fourth year
Practical training in public health nutrition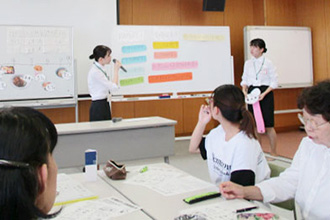 Fine-tuned education by the appointment of a homeroom teacher
At Kiryu University, the group of a homeroom teacher, assistant homeroom teacher, and assistant teacher provides fine-tuned support for each student.
CHECK! Relaxed and comfortable learning space
Kiryu University features an atmosphere where teachers and students are close to each other, which facilitates better communication.
Preparation for the national examination, aiming at the success of all students
Kiryu University aims at the success of all students on the national examination for a registered dietitian by providing fine-tuned support in all its aspects.
CHECK! Three points for aiming at the success of all students on a national examination
Point 1 : Special exercises
Lectures with fine-tuned explanations are developed to reinforce weak points.
Point 2 : Preparation for an exam in the seminars
Small-group guidance in seminars enables mental support as well
Point 3 : National exam preparation committee
The development of a systemic support system assists students in their studies.
Proven career support that meets students' wishes
The job placement rate is 100% at the Department of Nutrition of Kiryu University due to community-based cooperation and the network of graduates. Job placement using the licenses of registered dietitian/dietitian also features a higher rate at 91% than that of other universities.
Community-oriented education focusing on practical learning and hands-on expertise
You will also have an opportunity to give nutritional education to community residents using the skills you acquired, such as skills of nutritional education and communication.